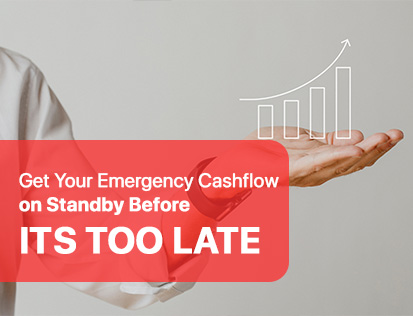 Imagine you run a small business, and you've been hit with unexpected expenses that have maxed out your credit card. You need cash quickly to cover your business expenses, but your credit limit has been reached.
In these uncertain times, businesses need to be prepared for emergencies that may arise unexpectedly. The need for immediate cash flow is essential, and it can mean the difference between staying afloat or going under.
That's where Capital by Boost Credit comes in, offering a solution that can provide emergency cash flow for your business when you need it the most.
Capital by Boost Credit is a shariah-compliant credit facility designed to help small and medium-sized enterprises (SMEs) with emergency cash flow. It offers a quick and easy application process, and once approved, funds can be disbursed to your Bank Account within just 2 working days.
This means you can get the cash you need to cover expenses or invest in opportunities that will help your business grow.
What's even better? Capital by Boost Credit offers a wide range of flexible packages tailored to your needs. You can choose from 60 days or 12 months of financing packages, all at an affordable interest rate of just 1.5% / Month . This means you can take advantage of the financing that fit your business needs and stay ahead of the game without worrying about exorbitant fees.

What's more, signing up for Capital by Boost Credit is completely free. There are no upfront fees, no interest charges, and no hidden costs. You only pay when you use the funds, making it a cost-effective way to manage your cash flow.
This means you can sign up now and have Capital by Boost Credit as a standby for when you need it, giving you peace of mind that you have access to emergency funds when you need them the most. You only pay when you use the funds.
Apply and get approved for free, which takes about 1 week. When you need the funds, then it will be approved within 48 hours and into your bank!
So why wait? Sign up for Capital by Boost Credit today and have peace of mind that you have emergency cash flow at your fingertips.