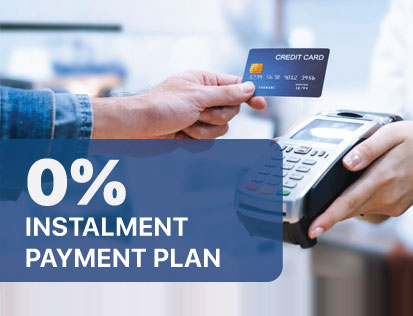 Pacific Wise is bringing a more convenient payment option for our customers to pay large sum of money in a flexible way. You can now repay expensive purchase from full payment to cheaper monthly instalments with 0% interest rate!
Enjoy more hassle-free payment method with 0% Easy Payment Plan exclusively on www.pacificwise.com.my!
FAQs
1. What is 0% Easy Payment Plan?
Easy payment plan gives you the flexibility to use your credit card to make payment with a substantial amount then repay it in instalments within a certain period, with 0% interest rate.
2. What are the requirements to pay by using 0% Easy Payment Plan?
Instalment payment option only applicable when total amount of transaction is equal or more than RM500 (6 months' instalment) and RM1,000 (6 / 12 months' instalment).
3. How will the payment being charged?
The first and subsequent instalment payments will be reflected in your next monthly credit card statement accordingly.
4. What are the participating banks for 0% Easy Payment Plan?
Only Maybank is available for the time being. Stay tuned for oncoming participating banks!
5. How to choose Easy Payment Plan option while checkout?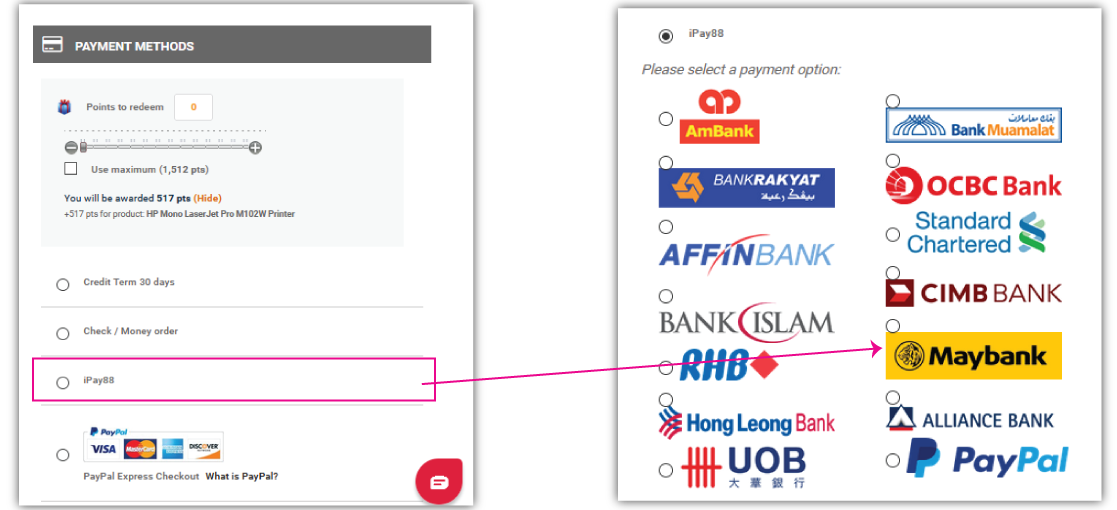 Choose IPAY88 under 'Payment Method' on your One Step Checkout Page and select MAYBANK.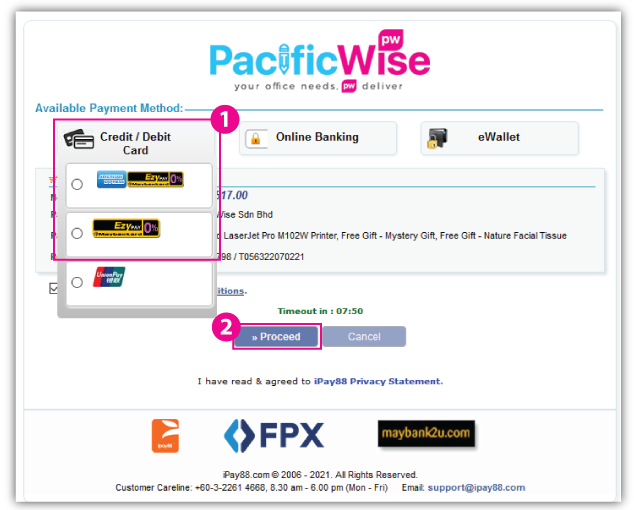 Next, you'll be redirected to iPay88 Checkout page.
1. Select Ezy Payment Plan from Credit/Debit Card section. 2. Click 'Proceed'.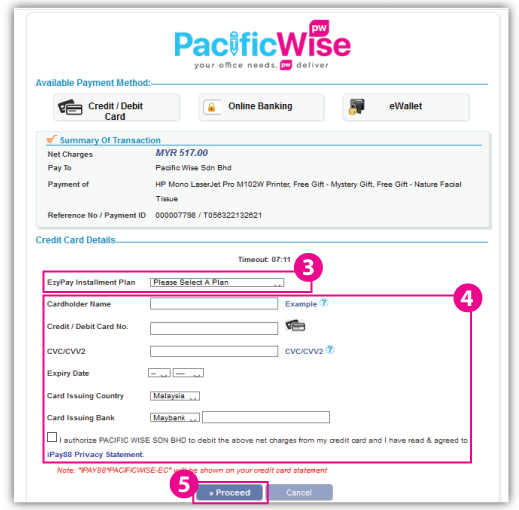 After clicking 'Proceed', you're required to fill in all the credit card details.
3. Choose your preferred instalment payment plan. 4. Complete your credit card details and don't forget to tick the checkbox at the bottom. 5. Click 'Proceed'. Transaction is transmitted to the bank for approval, which should take place instantly.
Take advantage of 0% Instalment Plan on www.pacificwise.com.my with your Maybank credit card today!