Everyone like reward. PW Rewards Points (commonly referred to as PWRP) are reward that award our customer with points when you purchase in our website. This reward points program is only for register customer. When you collect enough points, you can then use them to redeem gifts, voucher or donate.

Save your cost by earning PW Rewards point for every Ringgit you spend! Hurry, exclusive perks and privileges await!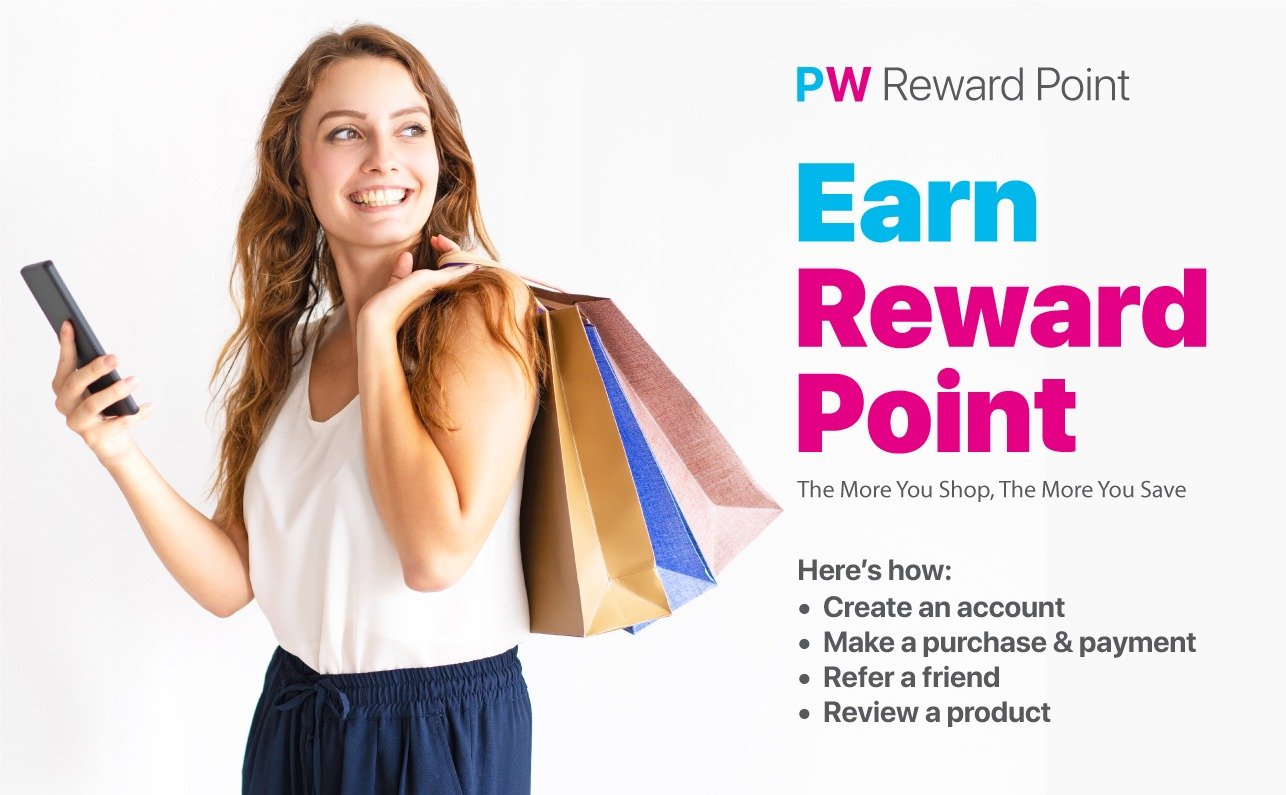 How To Check Your Reward Point?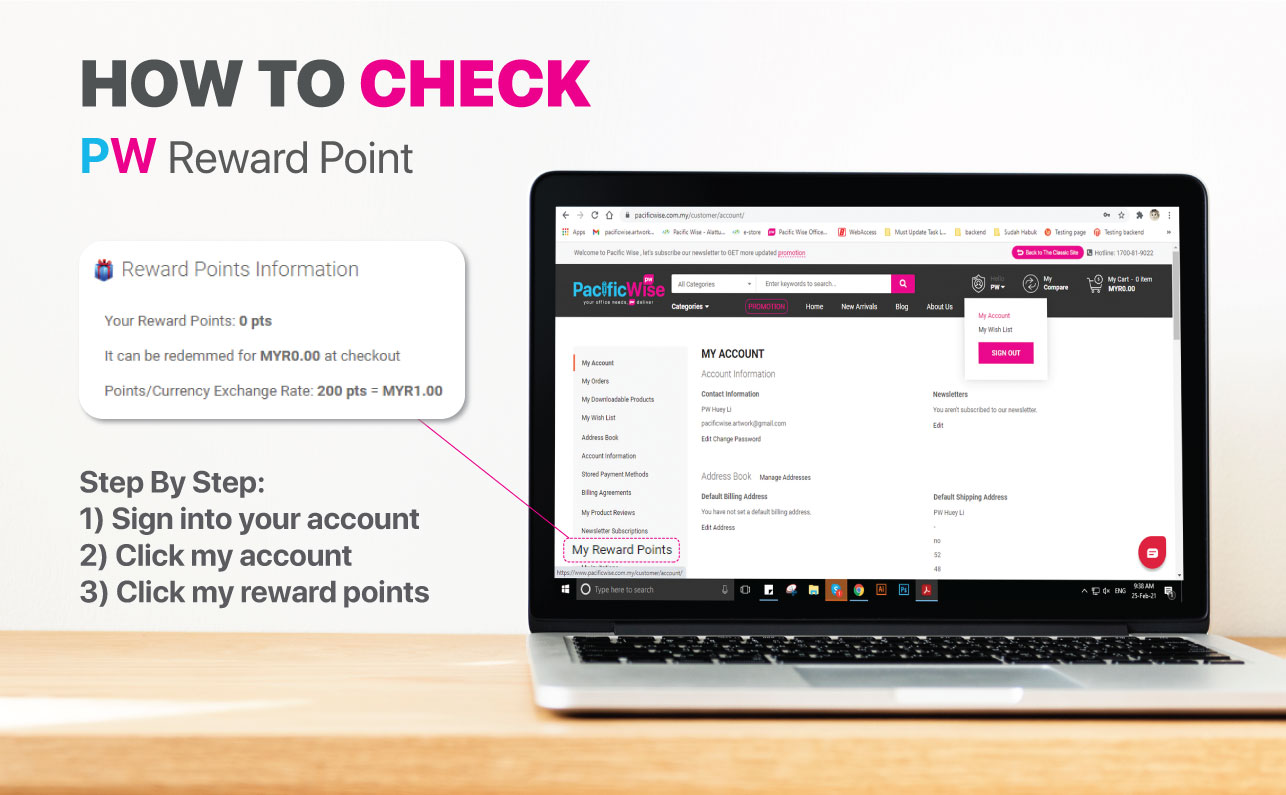 Q & A Regarding The PW Rewards Program
Q : WHAT IS PW REWARDS POINTS ?
A : PW Reward Points is a reward program offering to Pacific Wise Sdn Bhd loyalty Customer's. For thanks giving from our supporter loyalty customer, PW Reward Points can be redeemed for all of items on www.alattulis.com.my.
Q : HOW DO I EARN POINTS ?
A : You can earn PW Reward Points (RM1 = 1 Points) based on your qualifying net purchases (not include shipping fees). Your will earn points as long as your account is in good standing (that is, not delinquent, in default, closed, canceled, blocked, suspended or otherwise inactive and not available for use as offline). Below detail is clearly show TERM, CONDITION, RULE & REGULATION of PW Reward Points.
Q : WHAT IF THE ITEM I ORDER IS NO AVAILABLE ?
A : Sometimes ordered items are on backorder with manafacturer. If the backorder is for a short period, such as for no more than a couple of weeks, we will notify you of your backorder status and ship the item once it is again available to us. If the backorder status is going to be longer, we may contact you to allow you to select an alternate products or you may elect to cancel your order and have the PW Reward Points deduct back to your account.
Q : WHEN CAN I GET THE REWARD POINTS AFTER I PLACE MY ORDER ?
A : It is Standard Procedures times for us to reward customer as below:-

Ipay88/Paypal : 1-2 days
Cash on Delivery / Bank Tranfer : 2-3 days
Cheque on delivery : 4-5 days
Q : WHAT CAN DO WITH MY PW REWARD POINT ?
A : You have the three methods below:-
• Just redeem your PW Reward Points for your online order
• Donate to PW Charity Campaign. Please refer here
• Transfer to your eWallet credit. Please refer here (New!)
*200 PW Reward Points worth RM1.00*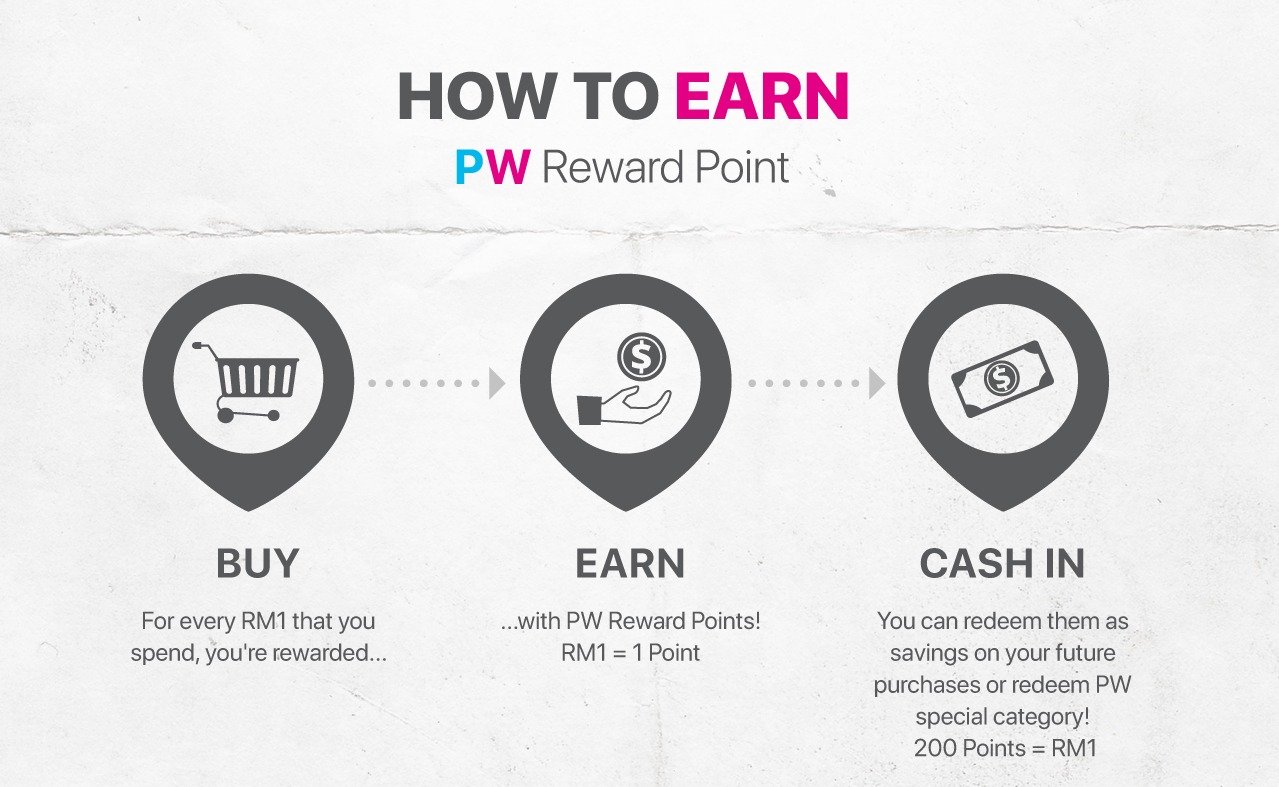 6 Ways to earn PW Reward Points

Reward fixed points are based on product price【RM1 = +1 point】
Reward Referral Visitors 【+10 points】
Reward Referral Sign-Ups 【+200 points】
First Referral Purchase 【+2000 points】
Next Referral Purchase 【+1000 points】
Posting Product Review 【+10 points】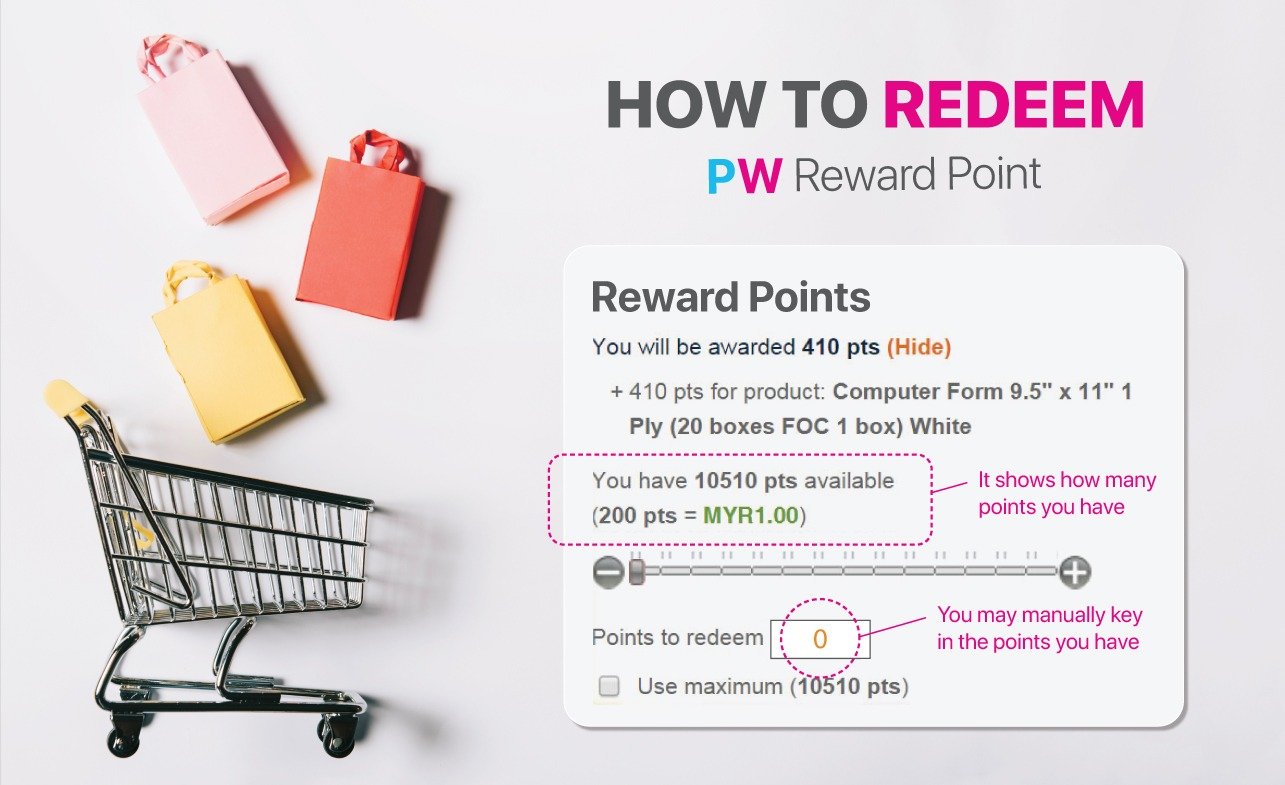 How to use or track PW Reward Points

1) How to use PW Reward Points
Use reward points to purchase products 【200 points = RM1】
Redeem points with convenience slider in the shopping cart page
Allow to redeem points at the checkout page as well
2) How to track your PW Reward Points
Customers can see reward points on many places (category / product page, registration page, sign up newsletter block...)
Review detail awarded points in shopping cart page, check total awarded points in mini cart / order reviews
Customers can check their reward points balance and expiry date every time while they checkout shopping cart
Track their detailed transactions history
View transaction details with reward rule descriptions
Automatically notify customer when point is going expired by email
Notify customer of point balance update by email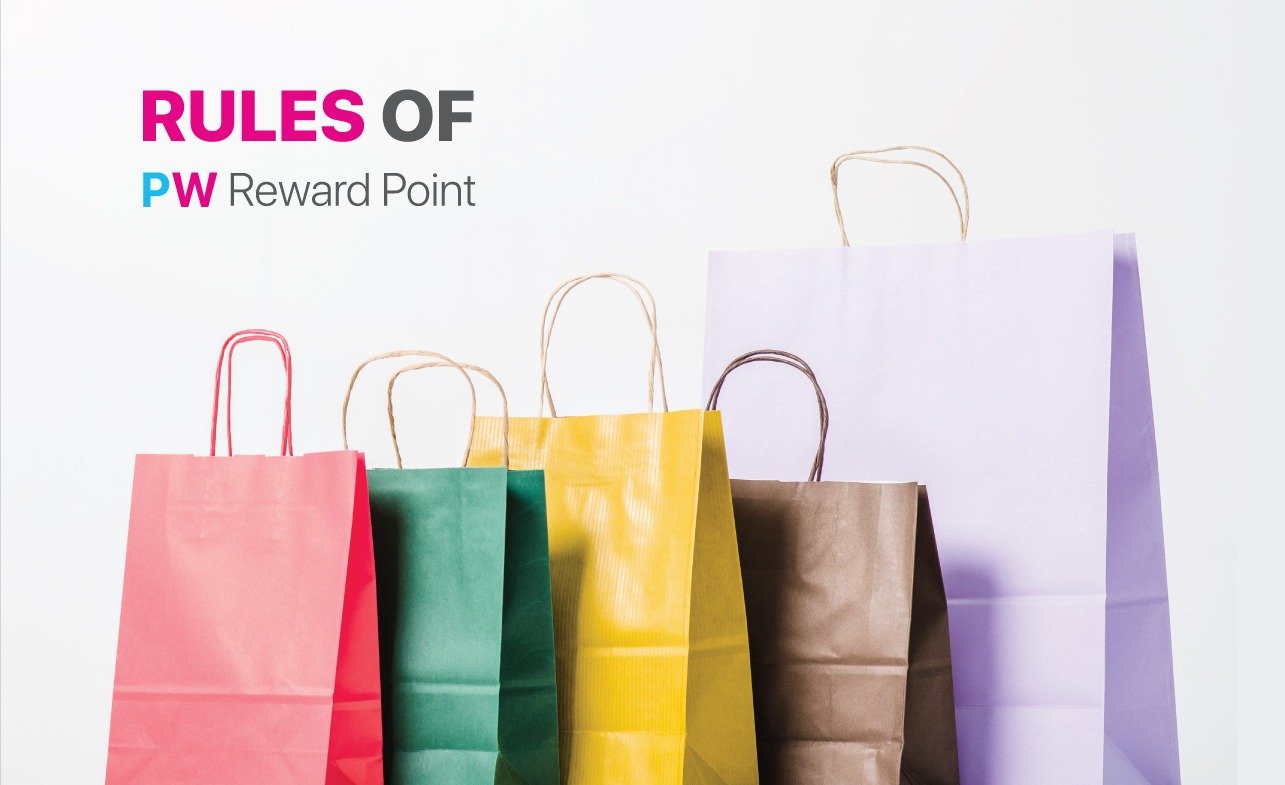 Terms & Conditions

PW Reward Points ONLY rewarded for the customer pay online (ipay88/paypal), Cash/Cheque On delivery, Bank Tranfer

through www.alattulis.com.my
( NOTE : TERM CUSTOMER IS NO TO ENTITLE THIS REWARD)
Reward point will be expired over 2 years
The Pacific Wise Sdn Bhd reserves the right to substitute a PW Rewards Point with another prize of similar value at any time without prior notice.

PW Reward Point is valid for redeem ALL PRODUCTS in www.alattulis.com.my
Pacific Wise Sdn Bhd reserves the right to change, amend, delete or add to these Terms & Conditions without prior notice at any time and the customer shall be bound to such changes.
Failure to comply with the PW Reward rules, regulations, instructions or methods will result in the Pacific Wise Sdn Bhd customer being disqualified.
By participating in this Rewards, the User is deemed to have read and agreed to the Terms & Conditions herein and shall adhere to all and/or any decisions made by the Pacific Wise Sdn Bhd.
The Pacific Wise Sdn Bhd are not responsible for any incorrect or inaccurate entry information, whether caused by its supplier or by any of the associated with or utilized in the reward or by any fraud technical failures or human error which may occur in the processing of the entries in the Reward Program.
If for any reason any aspect of this reward is not capable of running as planned including by reason of infection by computer virus, network failure, bugs, tampering, unauthorized intervention, the Organizer may in its sole discretion cancel, terminate, modify or suspend this reward,or invalidate any affected entries or any other cause beyond the control of the Pacific Wise Sdn Bhd, which affects the administration, security, fairness, integrity or proper conduct of this reward.
The Pacific Wise Sdn Bhd reserves the right at its sole discretion to disqualify any individual that it determines to be tampering with the entry process or the operation of the reward, to be acting in breach or potential breach of these Reward Terms & Conditions.
Without limiting the above, the Pacific Wise Sdn Bhd reserves the right to blacklist user account and/or pursue legal action against any individual it believes has undertaken fraudulent activities or other activities harmful to the Reward submission process or the operation of this reward.